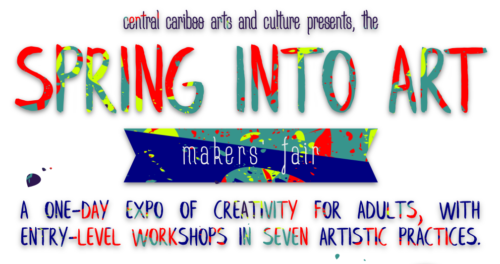 March 10, 2018 @ the Arts Centre
90 Fourth Avenue North, Williams Lake BC
Register Now
Central Cariboo Arts and Culture Society is excited to present a one-day expo of creativity for adults, with entry-level workshops in seven artistic media. Take as many as four workshops in the fields of pottery, painting, drawing, creative writing, charcoal drawing, theatre, and music. All workshops include materials and require no previous experience. Spring into Art is geared towards adults and mature youth, interested in finding a new creative outlet.
Workshops and Contributors:
Pottery: Lesley Lloyd
Participants will have an opportunity to experience the tactile quality of clay, pinching, pulling, joining, and taking-away will be a part of the experience. Lesley is an active member of the Cariboo Potters' guild, and frequently teaches kids and adult in the community.
Creative writing: Cat Fink
Writers live twice, the first time in person, the second time on the page. Learn an easy method of deeply noticing the world around you, followed by a simple way of turning that experience into heart-felt words.
Graphite Drawing: Kathryn Steen
Using pencils, graphite powder and erasers we will draw a simple still life. We will focus on value (light and dark tones) and completing a simple composition. Kathryn is a former teacher, and the current president of the Station House Gallery. After retiring, she began spending more time playing around with different art materials and subjects. She enjoys sharing what she knows with others and hopes everyone who takes part in the sessions has a good time and learns a little about drawing.
Pen & Ink: Ciel Grove
The simplicity and stark nature of pen and ink can be intimidating and challenging as a medium: there's no eraser or option to 'paint over', and the high contrast quality of the work leaves no room to hide, in a sense. And yet, there are fabulous visual effects and a depth of communication inherent to this style of drawing, and these can be created even by amateur artists when they become familiar with just a few basic techniques! Interested in doing more than doodling with your pen? Join Ciel Grove, Integrative Therapist + Artist as she offers some of the most basic yet most powerful techniques for shading, line style and composition using pen and ink.
Fibre art: Linda Purjue
For this workshop, we will try our hand at sculpting a needle-felted woollen figure. Linda Purjue is a talented fibre artist and long-time member of the Williams Lake Spinners, Weavers, and Fibre Artists' Guild.
Theatre / Improv: Sheryl-Lynn Lewis
Improv is a form of theatre that has directions for how to play, but what you play is completely made up. Together we will learn the guidelines, explore new settings, play some games and laugh. Sheryl-Lynn is a long-standing member of the Williams Lake Studio Theatre. She has acted, directed and designed many shows over the past 21 years.
Music / Recording: Brandon Hoffman
As a group collaboration, we will be writing and recording one song in our ramshackle recording studio. We will draw a subject and genre from a hat, and start laying down tracks, swinging at every first pitch. Brandon is an independent musician and producer. His work has been featured on Vice, the Huffington Post, CBC, Exclaim and many more. As a performer, he has played stages like ArtsWells and Vancouver International Jazz Fest.
Spring into Creativity (only available to full-day or morning registrants): Cat Fink
Say "Hello!" to your unique creative self. Let your curiosity and imagination loose while we experiment with creativity, individually and as a group. Discover what inspires you and gives you joy. The workshop activities are developed out of my twenty-two years experience as a professional artist, and the awesome creativity processes of Julia Cameron (author of 'The Artist's Way') and Lynda Barry (author of 'What It Is' and 'Syllabus').
---
Register here, or at the Open Book in Williams Lake
Spring into Art takes place Saturday, March 10, 2018 at the Central Cariboo Arts Centre, 90 Fourth Avenue North, Williams Lake BC. To inquire about staff or group package rates, contact artscentre@centralcaribooarts.com or 778 412 9044.
Half-Day
Morning (10am – 12:30pm)
or afternoon (1:30 – 4pm);
two workshops of your choosing
$47 + tax

Full Day
(10am – 4pm, with an hour for lunch);
four workshops of your choosing$93 + tax