Williams Lake's stellar summer live music series – every Thursday night in July and August!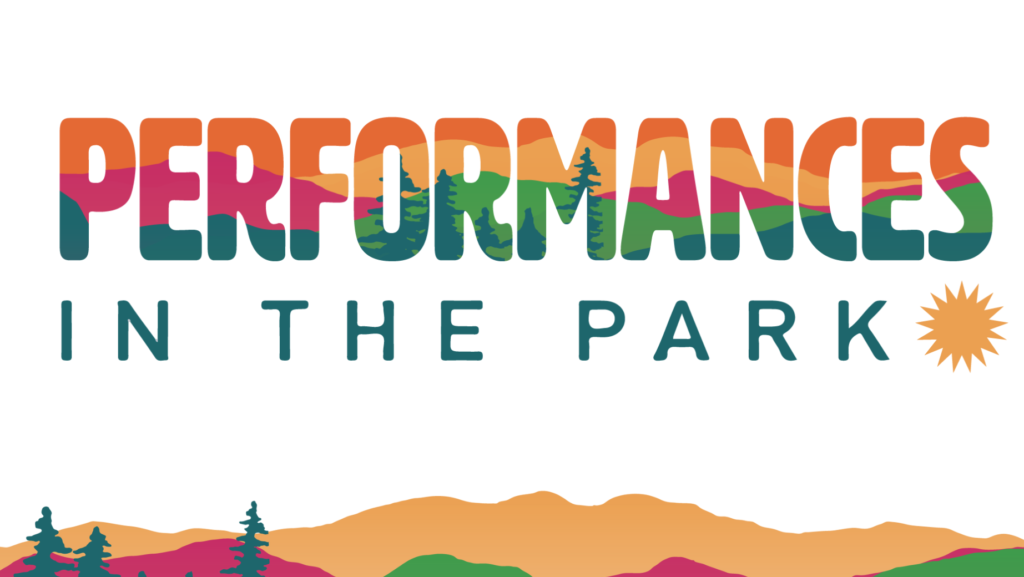 SEE OUR MOST UP-TO-DATE CONCERT INFORMATION AND WEEKLY ANNOUNCEMENTS here.
Presented by the Central Cariboo Arts and Culture Society, with the financial support of the City of Williams Lake and the Cariboo Regional District, the series is managed and financially supported by the Community Arts Council of Williams Lake, Performances in the Park events have seen us gather, dance and play with some of BC's top touring acts and highlight our best local acts, too. Come join us in the city's central park for a community tradition.
Held in a natural outdoor amphitheatre at the centre of Boitanio Park in downtown Williams Lake, we acknowledge our event takes place on unceded Northern Secwepemc'ulucw. Performances in the Park offers entertaining contemporary acts for the whole family. Join us for diverse, top-rated performers. Shows get underway at 6 pm.
We're turning up the volume this year with a fresh new brand that celebrates the best qualities of our summer concert series. Our multi-generational audiences tell a story of community joining together amongst the trees for the love of arts, culture and connection.
The event producers, The Community Arts Council of Williams Lake, are looking forward to showcasing regional acts and uplifting Indigenous voices.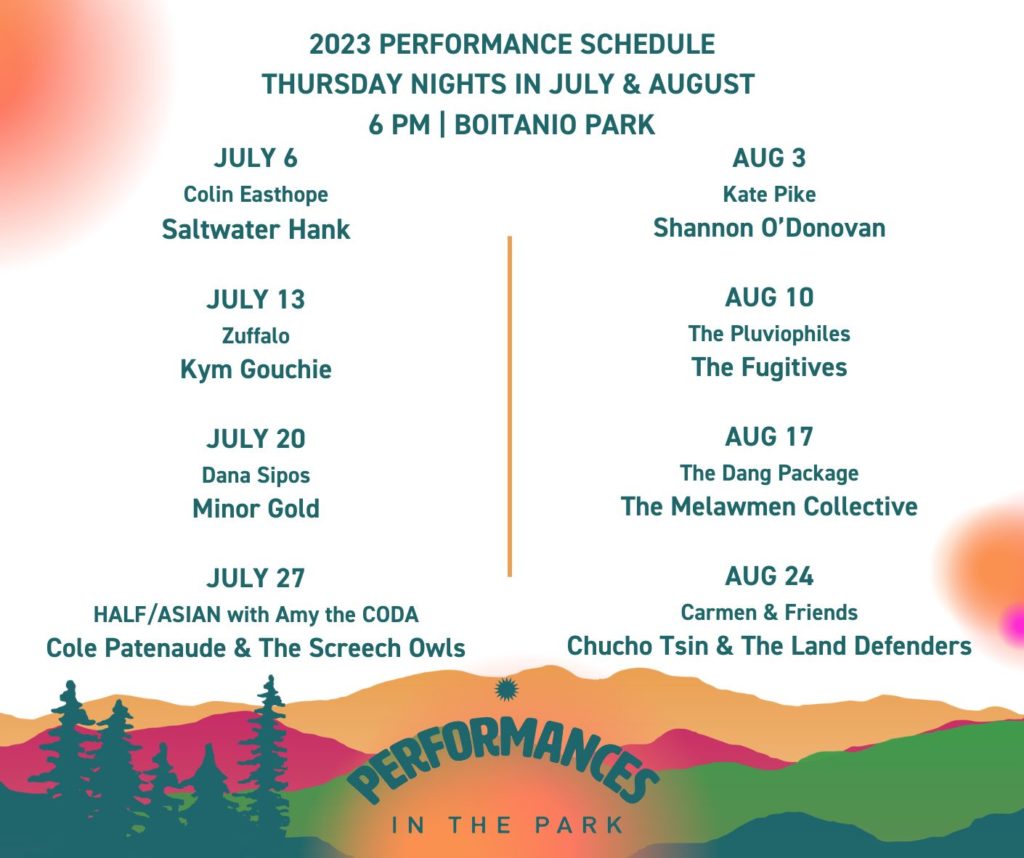 ---
OUR INCREDIBLE SPONSORS FOR THIS SERIES ARE-
Platinum Sponsors: Thompson River University – Williams Lake, Williams Lake and District Credit Union, Mount Polley Mining Corporation, Community Arts Council of Williams Lake
Gold Sponsor: The West Fraser Truckers Association
Silver Sponsors:Rotary of Williams Lake
Bronze Sponsor: Cariboo Handwoven, Boitanio Living by Janda Group, Sugar Cane Archeology, Sugar Cane Development Corporations' Coyote Rock Estates, Lorne Doerkson, MLA, Tl'esqox Tell Tale Signs, Williams Lake Chamber of Commerce, Williams Lake Optometry, Zirnhelt Timber Frames and Art Walk – Downtown Williams Lake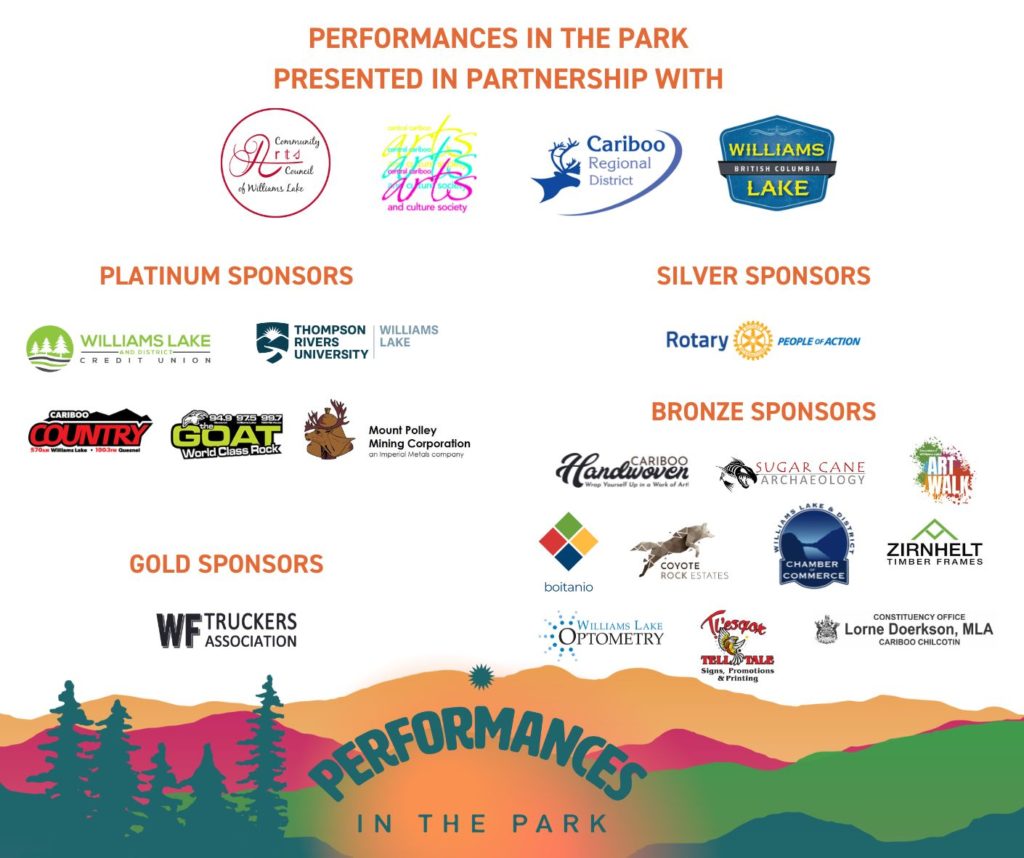 BECOME AN EVENT SPONSOR
Is your business or organization looking for a way to spread wealth, joy and creativity throughout the community? Sponsoring Performances in the Park supports an all-ages community endeavour that gets everyone outside, enjoying our city's best venue with loved ones. Hundreds of people gather with us every Thursday night – it's a great way to get your name out there!
---
PATRONS 'PLAY YOUR PART'
Do you love the concerts and content we create for you? Consider becoming a patron of our music series by donating the cost of a concert ticket – proceeds will be directed to the artist fees and ensure we've got live music coming to our community for years to come.
---
CHECK OUT OUR YOUTUBE CHANNEL
Our 'Listen Live' series from 2020 and 2021, featuring some amazing performances can be found on our YouTube Channel.