The final push towards our opening night on July 6th sees our team weaving together the many threads that lead to a fantastic free eight-week concert event in downtown Williams Lake.
We gratefully acknowledge that our event takes place on the traditional and unceded territory of the Northern Secwepemc Nation, in T'exelc (Williams Lake First Nation). It is an honour and privilege to create, work and play on these lands, and we offer our thanks to the stewards who have cared for it since time immemorial. Let's gather together in a good way so that we can lift each other up!
Our performances get underway at 6 pm every Thursday in July and August. It's an incredible line-up this year, with bands hailing from as far away as Queensland, Australia and Toronto, Ontario, as well as a brilliant selection of BC's best Indigenous musicians passing across our stage.  Let's not forget local legends and crowd faves that make a return, showcasing the amazing regional talent that makes this area so special.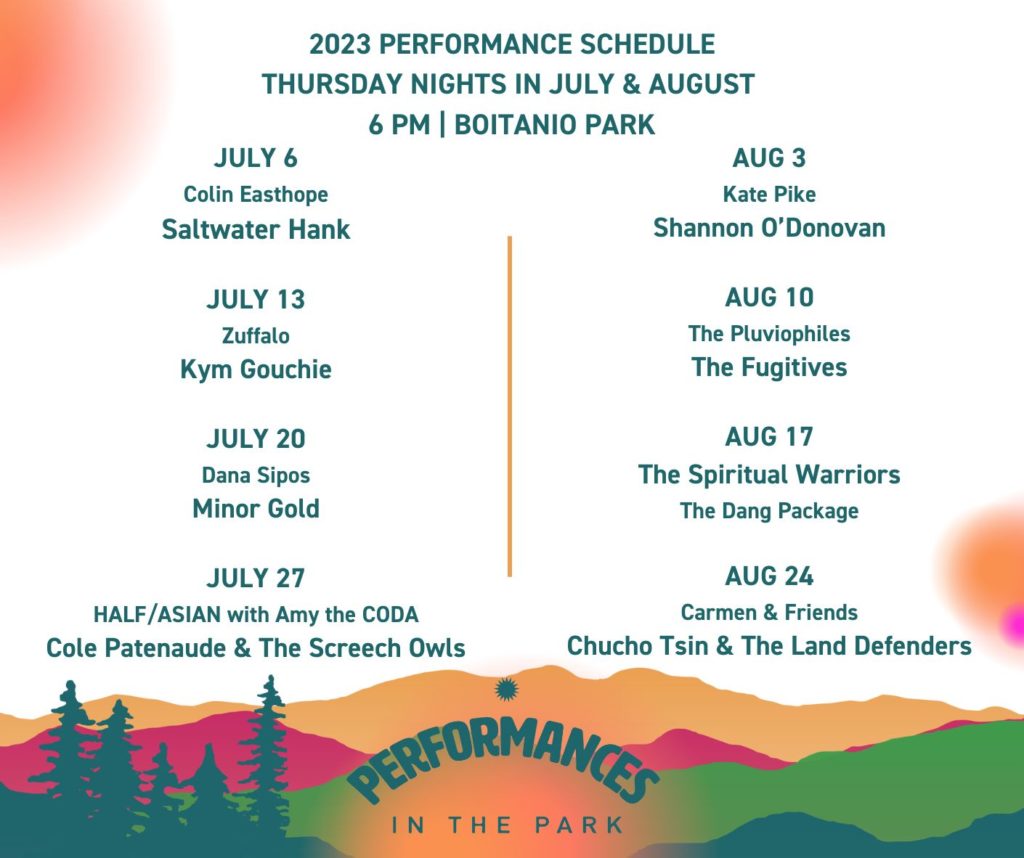 MEET YOUR PRESENTERS!
The Central Cariboo Arts and Culture Society has brought you Performances in the Park for over a decade! Supported financially by the City of Williams Lake and the Cariboo Regional District, the concert series is under the management of the Community Arts Council of Williams Lake, an arts and culture producing organization in operation since 1969. We're so grateful to the BC Arts Council for extra funding support this year.
Introducing our new sound engineer, Sean Scallion of Dragonfly Sound. We're so excited to have Sean's expertise on our team!
---
Our whole season gets underway on THURSDAY 6 JULY at 6 pm!  You'll not want to miss Colin Easthope (Confessional Folk) opening for Saltwater Hank (Ts'ymsyen Rock n Roll).  Colin Easthope's return to the stage is much anticipated by his home-town fans.  His smooth vocals and engaging storytelling lure you in for a sweet ride.  Saltwater Hank is changing the musical landscape with the release of his new album on July 1st.  Titled G̱al'üünx wil lu Holtga Liimi, which translates to "bentwood box full of songs", this completely Sm'algyax record feels right on time and on fire.
On THURSDAY 13 JULY, we follow up opening night with an eclectic set that features Toronto's Zuffalo (Psychedelic Pop Folk) supporting BC's powerhouse artist, Kym Gouchie (Traditional Pop Folk).  Zuffalo's music is groove-driven, uplifting psychedelic rock with folk- and pop-based melodies and harmonies. With funky beats and monstrous riffs that can enter realms of blues and hard rock, their songs consist of instrumental sections where the musicians communicate with each other to create unique stories in sound.  Kym Gouchie has a voice that will leave you changed. Her passion for healing is spun throughout her songwriting, while she proudly represents her Indigenous roots. Kym's traditional hand drum, acoustic guitar, full-bodied voice and authentic storytelling are a powerful force.
THURSDAY 20 JULY, brings out two acts that have mastered the nuances of lyric, harmony and instrumentation. Victoria based Dana Sipos' dreamy voice carries nouveau jazz into the folk realm, while Queensland's darling duo Minor Gold shines with their Americana grit and brilliant harmonies.  Starting us off, acclaimed Canadian songwriter Dana Sipos' talent for earthen imagery, rich spiralling vocals, and textured finger-picked instrumentation sets the stage for a deeply moving performance.  Minor Gold are the new Americana-Folk duo featuring artists Tracy McNeil & Dan Parsons. Their sound is replete with masterful harmonies, deft guitar playing with dynamics ranging from the intense restraint of campfire intimacy through to open throttle abandon. We hear the hedonistic groove of early 70's cosmic Americana, the daydream haze of 60's folk, and the power and romance of 80's pop but despite the classic references of yore, it's undeniably music written for the here and now.
On THURSDAY 27 JULY, a truly unique duo HALF/ASIAN with Amy the CODA (Synth pop and sign language) merge vintage 80s with Amy's mother tongue of American Sign Language. Cole Patenaude and the Screech Owls (Bluesy Rock and Alt Country) never fail to warm up the crowd and take 'em to a happy place.  HALF/ASIAN with Amy the CODA are an audio-visual performing duo creating art that is rooted in identity exploration and embodiment. HALF/ASIAN (Ian Griffiths) plays synthesizers from the 80's purchased at thrift stores and sings in English. Amy the CODA (Amy Braun) performs in her first language – Pidgin Signed English (A combination of ASL signs and English grammar and syntax).  Cole Patenaude and The Screech Owls keep truckin' and tightening their roadworthy touring band.  We're delighted they're willing to take the stage again this year, as fine-tuned as humans will ever be!
THURSDAY 3 AUGUST, we bring back another darling of the local scene, Shannon O'Donovan (Country Folk).  She will be supported by an up and coming performer out of Prince George who you're bound to find infectious, Kate Pike (Garage Rock).  Young, wild and free, Kate Pike plays energy-packed melodic garage rock for all your toe-tapping pleasure. An Indigi-queer,Kate Pike is a happy human. Transplanted from the harsh beauty of Ktaqmkuk (Newfoundland) to the unceded territory of the Lheidli Tenneh, Kate brings her own special blend reminiscent of the coast that grew her. A little bit Folk, a lotta bit Punk Rock and/or Roll- this proud indigi-queer is honored for the opportunity to share her music from coast to coast. Let's sing.  If you haven't had the pleasure of seeing Shannon O'Donovan live, it's time to make it happen!  An endearing and thoughtful singer-songwriter, Shannon's muse is the ebb and flow of everyday life, which she intimately connects with for her lyric and melody.  Backed by a full band, you'll be transported by her story and captivating presence.
On THURSDAY 10 AUGUST, we are once again in the presence of great acts from the Lower mainland.  When it rains, it pours, and The Pluviophiles get excited to create music!  Once they've stormed off the stage (!!), smooth harmonies and storied tales from The Fugitives will make you feel alright.  The Pluviophiles may love the grey skies that come with rain, but their sound is colourful and uplifting.  Led by former punk vocalist, poet Heather Haley is joined by Keir Nicol on guitar and  Corinne Mundell on bass. Be prepared for something left of centre.  The 2022 Juno-nominated band, The Fugitives are back!  We couldn't resist another fantastic evening with the band as feature performers. An authentic folk quartet with unforgettable live shows that  brim with complex harmonies, infectious storytelling and top-notch musicianship.
THURSDAY 17 AUGUST, is NOT to be missed for the lovers of funky jams, great percussion and a good uplifting time!  We open with our Feature Group for a change, Lil'wat Nations' The Spiritual Warriors, followed by three seriously rad dudes known as The Dang Package.  The Spiritual Warriors are an award winning Indigenous roots and reggae act, but really so much more!  Spinning lyrics in their native tongue, U'cwalmicwts, LeroyJoe and his daughter Daisy lead a band of high calibre performers, and the result is uplifting and soulful!  What follows is a deeply funky, garage blues set by The Dang Package.  Self-declared favorite band of all cool aunties, this trio from Victoria don't mess around when it comes to laying down slick licks and basslines to get you moving.
It's never easy to say goodbye, so we pack our last night with some of the very best regional talent on THURSDAY 24 AUGUST. A much beloved local songstress, Carmen Mutschele and Friends  will woo us with their easy listening until Chucho Tsin and the Land Defenders rip it up with their classic rock and contemporary Indigenous themes.  Known for her beautiful voice, Carmen Mutschele blends her sets with original songs and favorite covers in multiple languages.  She's always been generous to share the spotlight, and we can't wait to see how her musical guests fill up the sound.  Closing out the season, Chucho Tsin and The Land Defenders promise to move your body and soul with blues inspired by a rock n roll edge.  Chucho Tsin's Tsilhqot'in roots lead him to tell stories of land and history grounded in the gritty rhythms of a true power trio.
---
OUR INCREDIBLE SPONSORS FOR THIS SERIES ARE-
Platinum Sponsors: Thompson River University – Williams Lake, Williams Lake and District Credit Union, Mount Polley Mining Corporation, Community Arts Council of Williams Lake
Gold Sponsor: The West Fraser Truckers Association
Silver Sponsors:Rotary of Williams Lake
Bronze Sponsor: Cariboo Handwoven, Boitanio Living by Janda Group, Sugar Cane Archeology,  Sugar Cane Development Corporations' Coyote Rock Estates, Lorne Doerkson, MLA, Tl'esqox Tell Tale Signs,  Williams Lake Chamber of Commerce, Williams Lake Optometry, Zirnhelt Timber Frames and Art Walk – Downtown Williams Lake