Our stellar FREE and Family-Friendly concert series gets underway this week!
We've missed seeing your smiling faces, and so we've planned an unforgettable evening for you starting at 6 pm Thursday July 6th. Lennard Supernault gets us started in a good way, with a traditional welcome to the Unceded Territories of the Northern Secwepemc Nation of T'exelc (Williams Lake First Nation). Then hometown grown singer-songwriter Colin Easthope woos us with his musical wonderings. To close out the night, we're going to get rocked and rolled by Ts'msyen Nation's Saltwater Hank, whose newest album merges his traditional language with gritty rock n roll.
---
FEATURE PERFORMER: Saltwater Hank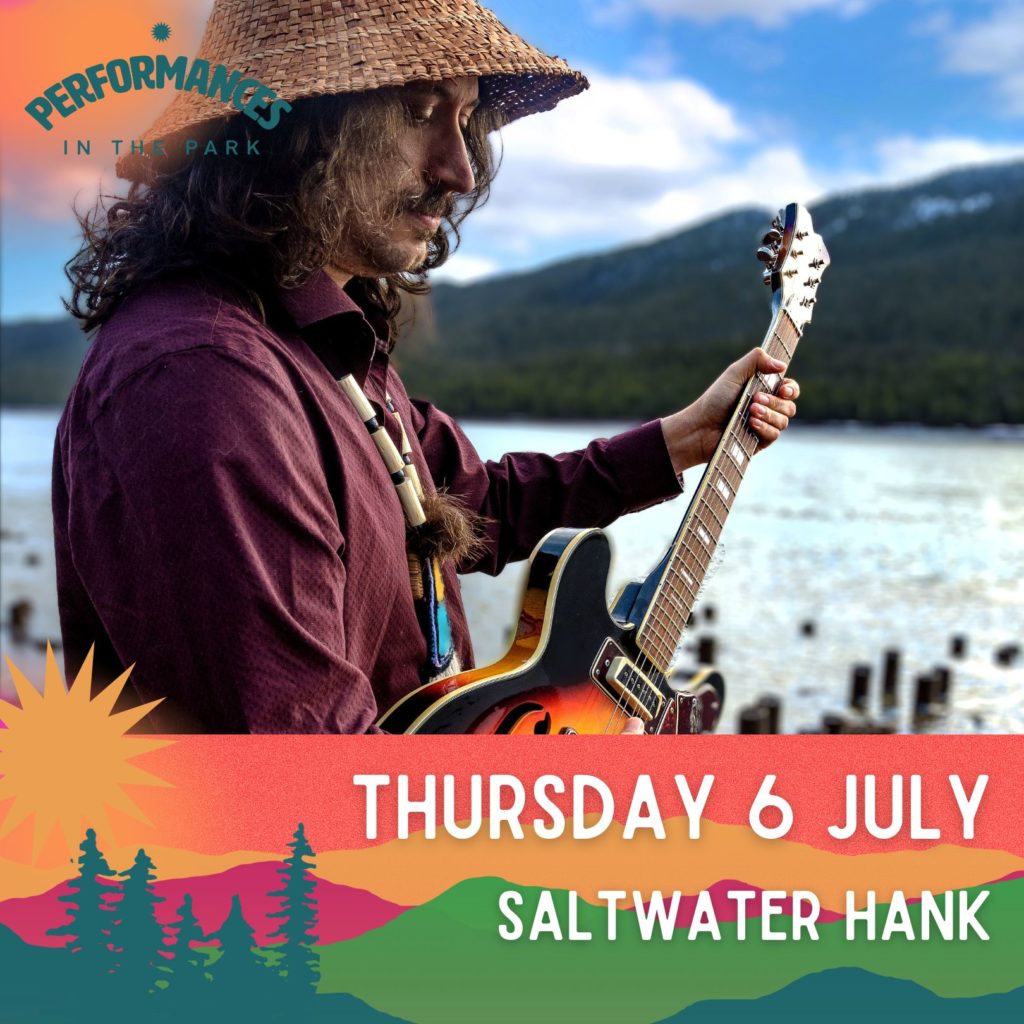 With the July 1st release of G̱al'üünx Wil Lu Holtga Liimi (Bentwood Box Full of Songs), Saltwater Hank's Jeremy Pahl is setting fire to the language of his ancestors with electric energy for these modern times. Saltwater Hank has a natural comedic timing throughout his songwriting and performance, and the many hours spent on all of his chosen instruments are shown through his skillful delivery.
Having relocated back to his home community of Kxeen (also known as Prince Rupert, BC) before the pandemic, the time away from the hustle of touring and other music industry pressures allowed Saltwater Hank to hold a newfound space for himself and his community. Immersing himself in his roots led to writing songs about his own experiences gathering food and spending time on the ocean and nearby Skeena River (Ḵ'a̱la̱ Ksyen), as well as musically relaying the stories of history and culture shared with him in the Gitga'ata community. A testament to his commitment to the craft and the connection that it serves, Saltwater Hank has released four EPs since the beginning of 2020, all aptly named "That's Not How Tommy Played It (Volumes 1 to 4)". Saltwater Hank has always been a storyteller, and he's embracing it now more than ever.
Learn more about Saltwater Hank
OPENING PERFORMER: Colin Easthope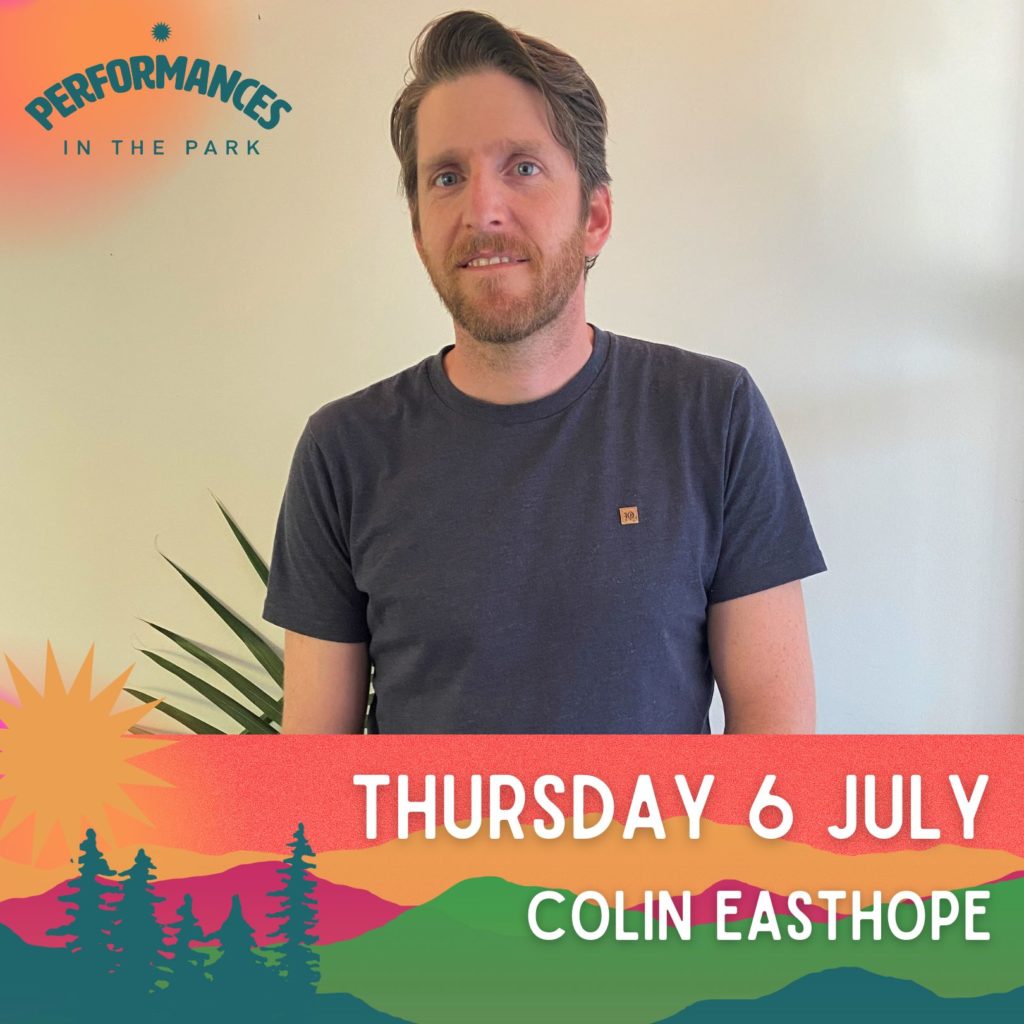 Singer-songwriter Colin Easthope is no stranger to music fans in Williams Lake. His confessional folk stye brings the listener in, warm vocals guiding you through impeccable storytelling about a life lived in these crazy times. After a hiatus from the stage, Colin is back, and we're delighted to be a part of his musical journey.
Learn more about Colin Easthope
TRADITIONAL WELCOME: Lennard Supernault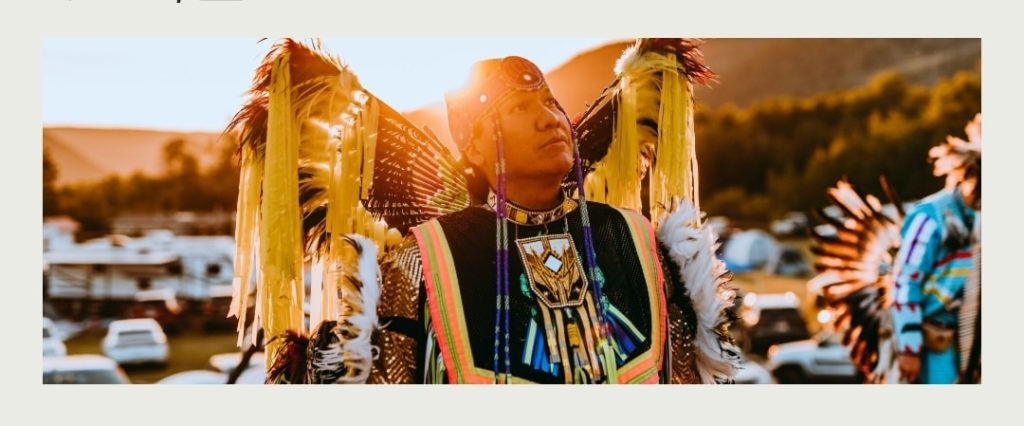 We are honoured and delighted to welcome Lennard Supernault to the Opening Night of Performances in the Park! Lennard is a Powwow dancer and drummer, a martial artist, a family man and powerful teacher of his culture. Please join us as he opens our event at 6 pm with drumming and dancing.
---
PARTNERSHIPS AND SPONSORSHIPS
Presented by The Central Cariboo Arts and Culture Society, with the financial support of the City of Williams Lake and the Cariboo Regional District, the concert series is under the management of the Community Arts Council of Williams Lake. This year, we are so grateful for the extra support from The BC Arts Council's resilience funding, assisting organizations to bounce back after some tough years.
Our Sponsors for July 6 are –
Platinum Sponsors:Thompson River University – Williams Lake, Williams Lake and District Credit Union, Mount Polley Mining Corporation, Community Arts Council of Williams Lake
Gold Sponsor: The West Fraser Truckers Association
Silver Sponsors:Rotary Club of Williams Lake
Bronze Sponsors: Lorne Doerkson, MLA & Sugar Cane Archeology
Thank you to our media sponsors at My Cariboo Now's The Goat and Cariboo Country