"If Music is a place – then Jazz is the city, Folk is the wilderness, Rock is the road, Classical is a temple." 
-Vera Nazerian
One of the best things about Performances in the Park is the way we bring multiple generations together to listen to music from various genres and styles. We're so grateful for your support, dear Audience, and we work hard to get great acts to perform for you on the beautiful Gwen Ringwood stage at beautiful Boitanio Park. This week, we hope we're delivering a fan-favorite performance with Cole Patenaude and The Screech Owls as the headline act. Our opening act HALF/ASIAN with Amy the CODA brings a brilliant fusion of sounds drenched in synth-pop, with the twist of bringing Pidgin Signed English into their performance.
We have a special guest with us this Thursday!  The Cariboo Potters' Guild is hosting 'Clay Play' during the set break between acts. We're excited that they're helping us make Performances in the Park an even more creative event, along with Community Arts Council's Art in the Park for kids of all ages!
---
FEATURE PERFORMER: Cole Patenaude and the Screech Owls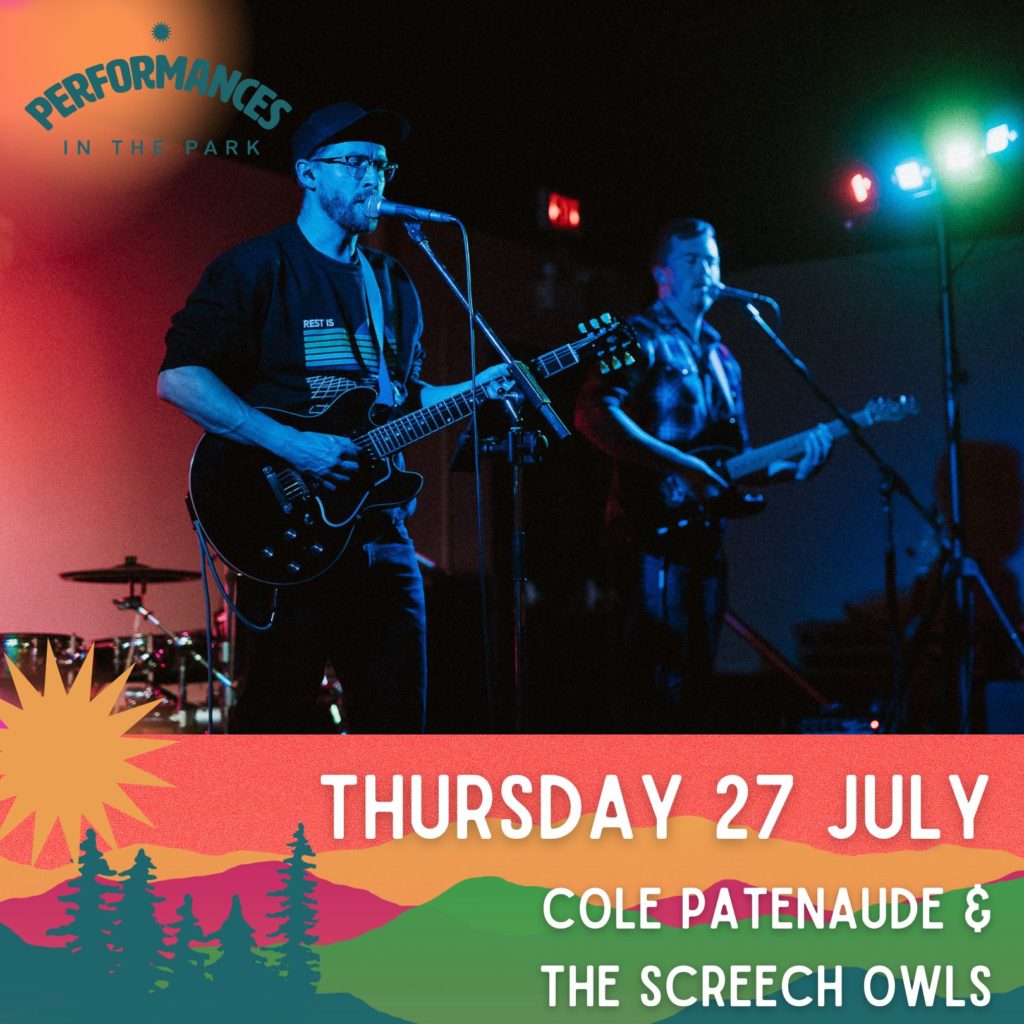 This band of bros is nothing but trouble – but the WONDERFUL kind! Trouble with a capital T for terrific timing, totally tubular riffs and ta-da!! An amazing rock n blues band with some twisted country classics, Cole Patenaude recruited bandmates Kevin Easthope on the drums, Connor Dolighan on bass, and Alex Tranq rounding out the squad on guitar. From what we've witnessed of this troupe, be prepared to have a ton of fun and be impressed with the skill these guys bring to the stage. Talented with a capital T, to boot!

Cole's roots are in Horsefly, BC, part of a musical family band that's grown an impressive number of brilliant musicians. If the rest of the family veered into more melodic folk, Cole stands out as an incredibly adept blues guitar player, and songwriter who captures life's moments eloquently, but in a gutsy way. An act not to be missed!
Learn more about Cole Patenaude and the Screech Owls
OPENING PERFORMER: HALF/ASIAN with Amy the CODA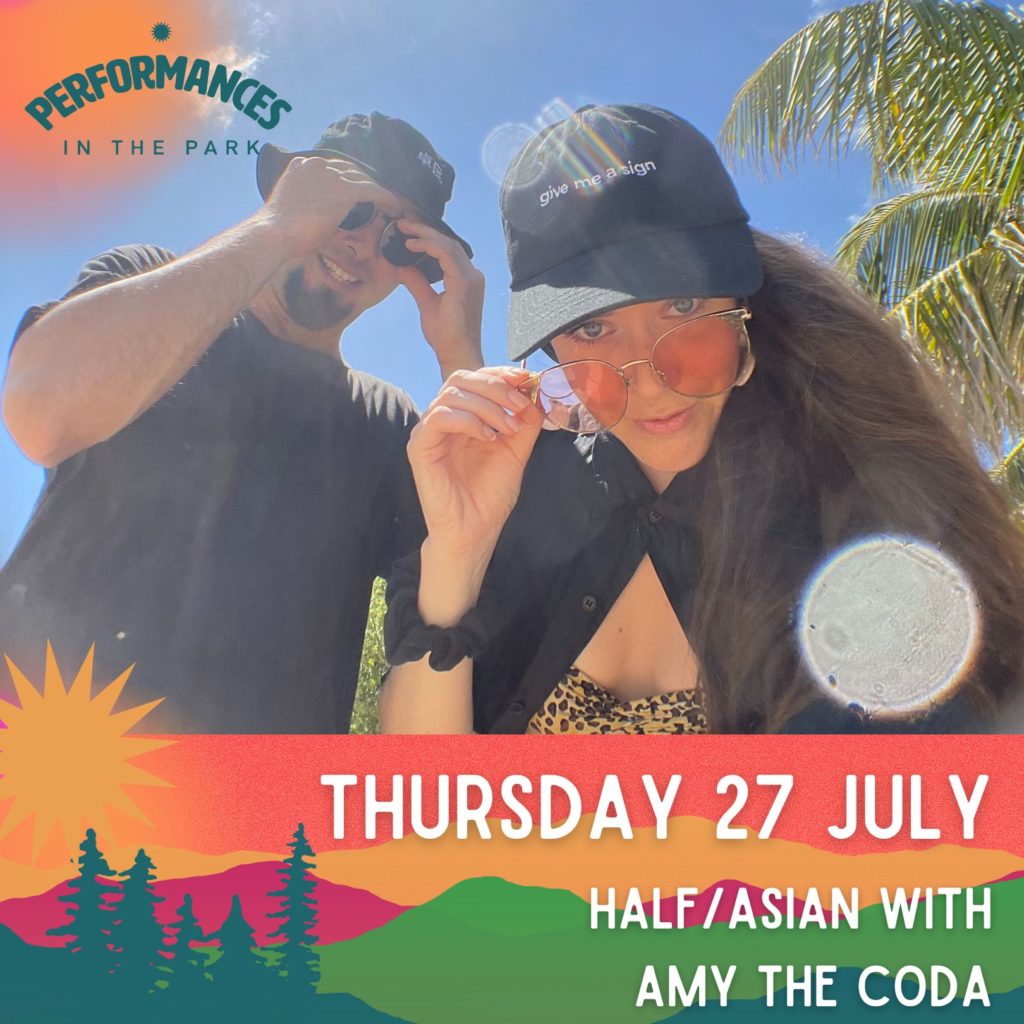 HALF/ASIAN with Amy the CODA are a synth pop duo that sing harmonies in English and sign language. Blending their voices and stories into a sound and performance that is truly unlike any other. A PSR 36 synthesizer from 1980 sets the tone and tempo. Their harmonious voices tell stories with heart. The incorporation of sign language allows hearing audience members to experience music in a deeper way and for sign language users to have more access to the lyrics and message behind the music.
For Ian, it started with the purchase of a Yamaha PSR 36 from Value Village – and has grown into a distinct sound that pushes the boundaries of synthesizer programming – going beyond the parameters it was designed for. The lyricism ranges from fractured poetry to poignant storytelling and narratives. Their sound has been likened to Chromeo and early Gorillaz, mixed with George Harrison.
For Amy, it started with signing along to one of Ian's songs and realizing that she had lost the majority of her sign language fluency through having a profession that is not centered around the deaf community and interpreting. Her performance fully embraces her bi-lingual and bi-cultural identity as a CODA (Child of a Deaf Adult) by including both spoken language and signed language.
Learn more about HALF/ASIAN with Amy the CODA
---
PARTNERSHIPS AND SPONSORSHIPS
Presented by The Central Cariboo Arts and Culture Society, with the financial support of the City of Williams Lake and the Cariboo Regional District, the concert series is under the management of the Community Arts Council of Williams Lake. This year, we are so grateful for the extra support from The BC Arts Council's resilience funding, assisting organizations to bounce back after some tough years.
Our Sponsors for July 27 are –
Platinum Sponsors:Thompson River University – Williams Lake, Williams Lake and District Credit Union, Mount Polley Mining Corporation, Community Arts Council of Williams Lake
Gold Sponsor: West Fraser Truckers Association
Bronze Sponsors:Williams Lake Optometry
Thank you to our media sponsors at My Cariboo Now's The Goat and Cariboo Country