The 2020 and 2021 'Listen Live' Performances in the Park series are available on our YouTube Channel.
SUBSCRIBE AND BE A PART OF OUR GROWING YOUTUBE CHANNEL
We serve the music lovers in the Cariboo region – and we hope to serve curious fans the province over. That's because we create high quality arts and entertainment – great talent beautifully shot with incredible sound.
Patrons 'PLAY YOUR PART' Campaign
Love the content we're creating?! Please contribute the cost of a concert ticket! Help us support the performing artists we're showcasing, now and in the future!
Clicking the above 'Donate Now' will take you through PayPal to securely make your donation.
Presented by the Central Cariboo Arts and Culture Society, with the financial support of the City of Williams Lake and the Cariboo Regional District, the series is managed by the Community Arts Council of Williams Lake in 2021 partnership with Arts on the Fly.
Our Sponsors for 2021
Each year, wonderful businesses support the creation and presentation of live music in our community.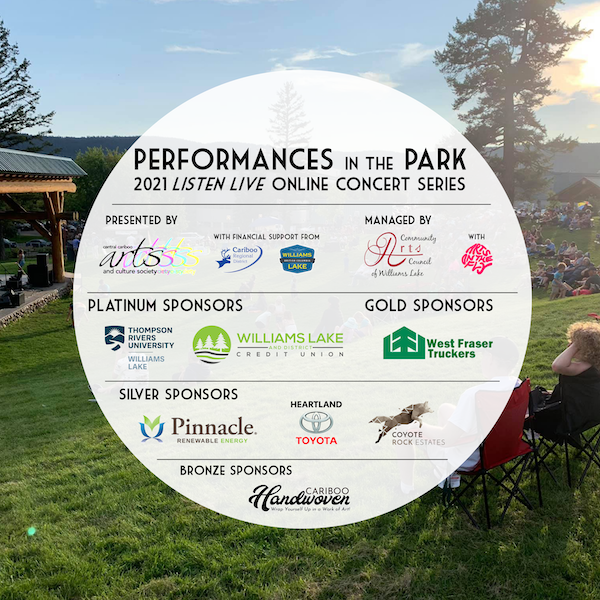 Performances in the Park shares the best of our community with the public and we would love for you to join the team. It's never been a better time to support the artists and performers that bring us together.
We have a range of sponsorships to suit everyone!
To learn more about business sponsorships, contact Venta Rutkauskas.
To make a pledge fill out our online sponsorship form.
Missed Us Last Summer?
Featuring nine performances, and a "Best of PIP 2020" playlist, our YouTube Channel hosts some amazing concerts. You'll find Marin Patenaude, The Ladies of the Valley; Brent Morton as Lyle Bats with Brandon Hoffman as Blocktreat; The Salmon Brothers from Esk'etemc with Miss White Spider (Al-Lisa McKay); and finally, Hip Hop acts Rich n Beka, spoken word artist Dana I.D. Matthews and the new homegrown Williams Lake band, 10 Day Notice.
Find them on our YouTube Channel and keep up to date on our Facebook and Instagram pages.