Be inspired… "It is Always the Simple that Produces the Marvellous"
– Amelia Barr
If you've had the opportunity to join us on Thursday evenings in Boitanio Park, then you'll understand the wonderful simplicity of gathering in a beautiful place, with community, listening to amazing artists share their talents with us.  It has been marvellous.  We're in for another inspired performance by the incredible band The Fugitives, touring through BC once more, powerfully moving audiences with their four-part harmonies and deeply felt stories.  They are joined by another Vancouver-based act, The Pluviophiles, a project for the rain lovers in our lives.
It's the Vancouver Special this week folks – come on out and see the bands you wouldn't normally get to right here in Boitanio Park!  We're always happy to see you enjoying arts and culture in our beautiful backyard.
---
Feature Performer The Fugitives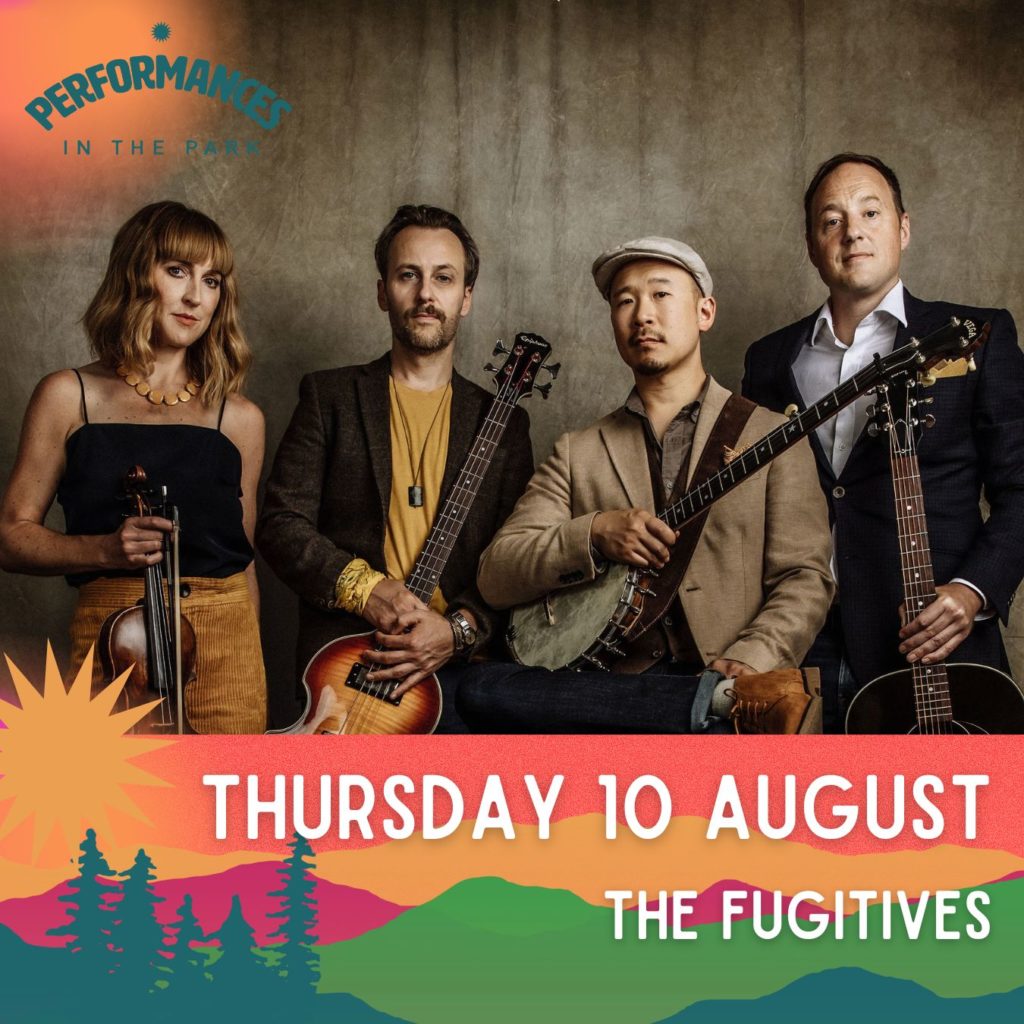 "The Fugitives are capable of achieving dizzying, Arcade Fire-ish crescendos, replete with parallel melodies, complex harmonies and brimming torrents of emotion."
— Uptown Magazine
With a brand new album in the wings, The Fugitives are once again dazzling audiences around BC with their fulsome four-piece sound machine. Led by songwriters Brendan McLeod and Adrian Glynn, the band delivers unforgettable live shows, brimming with complex harmonies, infectious storytelling and top-notch musicianship. As the CBC has it: "This show is simply brilliant."
Their upcoming release, No Help Coming, seeks to humanize the climate crisis. What they move away from with these new songs is continuing in a line of sadness – instead, No Help Coming hones in on the joyful aspects of humanity to buoy up the courage needed to face the emergency head on.
They're joined by banjo player Chris Suen (Viper Central) and violinist Carly Frey (The Coal Porters). Over their first five albums, they've amassed a JUNO nomination, numerous CFMA and WCMA nominations, and toured extensively through Canada, Europe, and the UK. Performance highlights include most major Canadian folk festivals, a slot at Glastonbury, and a tour opening for Buffy Sainte-Marie. We are incredibly lucky to have this powerhouse act join us in Williams Lake again in 2023!
Opening Performer The Pluviophiles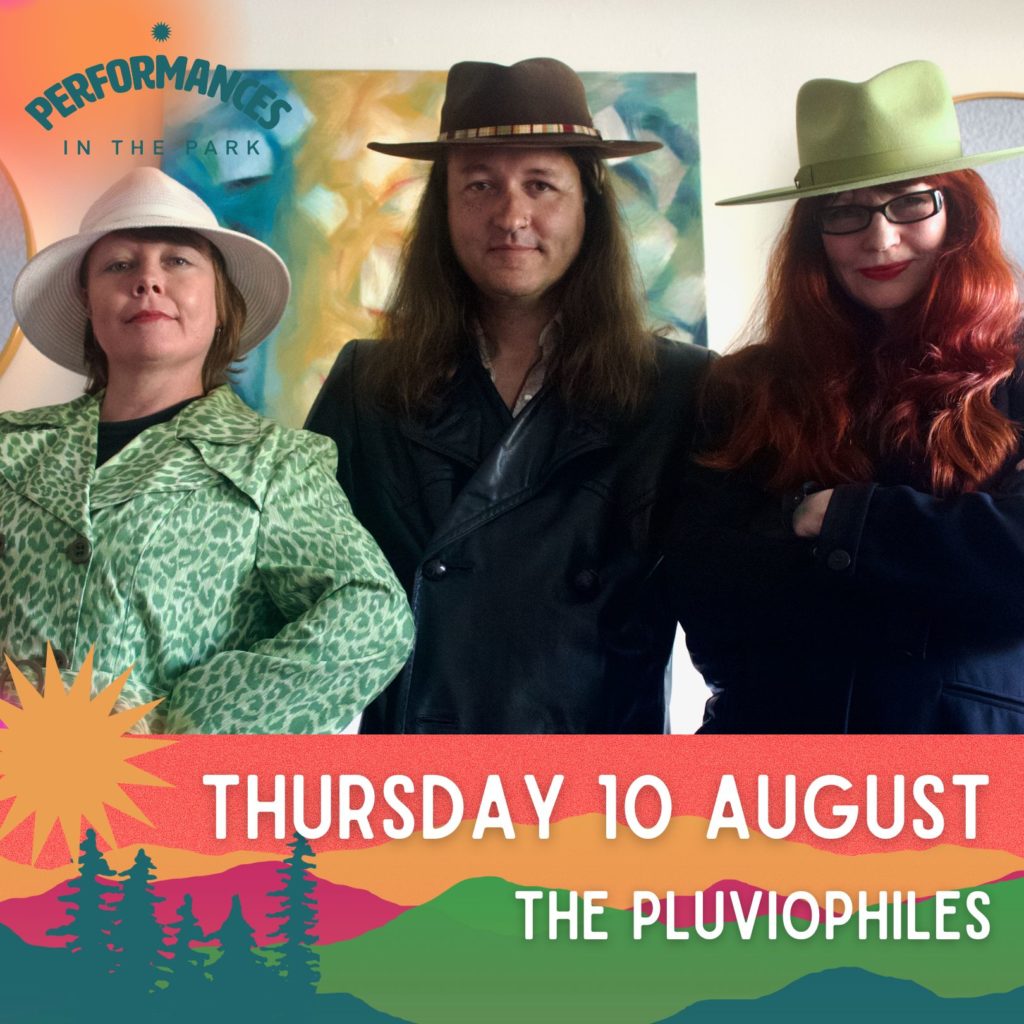 Leaning into music always came easy to Heather Haley, who's poetic sense had a rough edge to it. Performing for the last 30 years under various bands and monikers, Heather has been home in Vancouver, BC, teaming up with musicians like Keir Nicoll and Corrine Mundell.
The Pluviophiles are the new weather, an indie folk rock trio featuring vocalist Heather Haley, bassist Corinne Mundell and guitarist Keir Nicoll.
A member of the punk band the 45s, and originator of the all-female group, the Zellots, Heather Haley's edgy style stems in part from her days in the Hollywood underground music scene, her group praised by the LA Weekly as one of the city's "Ten Great Bands." Upon returning to Vancouver, she performed as an official BC Transit busker and later teamed up with guitarist Roderick Shoolbraid as AURAL Heather to produce critically acclaimed CDs of spoken word song, Princess Nut and Surfing Season and tours of Canada, the US and Europe.
Corinne Mundell has toured and played in bands such as Ngoma, The Carnival Band, All Purpose and Blackberry Wood. She is primarily a saxophonist but also an accomplished multi-instrumentalist. Corinne has toured BC, Alberta, the US, France, Germany, England and Spain. She's recently cut a solo vinyl record at Clampdown Records, mixed at Red Light Studios in EastVan by Jesse Waldman.
Keir Nicoll, an alumnus of the Carnival Band and All Purpose is a composer/ maestro of shifting guises who's played various musical styles, especially folk-inflected rock. He's released two solo albums, Chambre Yellow and Cats'up, as well as dozens of folk, rock and electronica tracks on Soundcloud. Whether performing solo or in a band, Nicoll is well-versed in old and new styles and leans on a knowledge of classical and jazz history.
---
PARTNERSHIPS AND SPONSORSHIPS
Presented by The Central Cariboo Arts and Culture Society, with the financial support of the City of Williams Lake and the Cariboo Regional District, the concert series is under the management of the Community Arts Council of Williams Lake. This year, we are so grateful for the extra support from The BC Arts Council's resilience funding, assisting organizations to bounce back after some tough years.
Our Sponsors for August 10th are –
Platinum Sponsors: Thompson River University – Williams Lake, Williams Lake and District Credit Union, Mount Polley Mining Corporation, Community Arts Council of Williams Lake
Gold: West Fraser Truckers Association
Bronze Sponsors: Downtown Williams Lake Art Walk
Thank you to our media sponsors at My Cariboo Now's  The Goat and Cariboo Country